Security Electric Fence Products
Since 1995 Pakton has focused our expertise on the niche area of Electronics for Electric Fences. We do not install or sell retail, we sell to others in the industry who in turn wholesale, install or retail. We have a proven record for providing electronics for some of the biggest brands in the industry. We can tailor designs to suit the price range and performance requirements of any target market. If you require security electric fence products then we can help. If you are a retail customer or installer we can put you in contact with one of our existing OEM customers. For OEM and custom product design please contact us.
Pakton manufactures a number of security electric fence products to suit various needs and circumstances. Two examples of these are the Single Zone Bipolar and Dual Zonesecurity energiser Populated Circuit Board Assemblies (PCBA's).
Pakton Technologies has now announced its new IP Energizer® technology, allowing users to monitor and control their fence remotely. Read more about this technology here.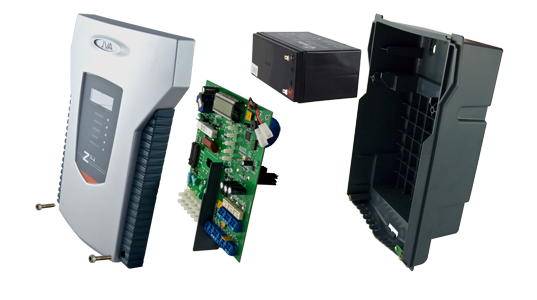 Technical Abilities
Area
Description
General
Products which meet or exceed IEC60335.2.76, TUV, ROHS and CE standards
All live wire or Bi-Polar fence energisers
Group synchronisation of up to 250 independent zones
Touch detection alarm (with or without high voltage)
Auto-sync (TM) "just in time" synchronisation
Detection of fence faults at extreme distances (beyond 10km)
Accurate position reporting of faults to within 1m
Pakton proprietary flash microcontroller file format (PFW) USB based field re-programming tools
TCP/IP based remote re-flashing tools
Networking and Integration
Wired (including fibre optic) using data protocols such as RS485 and TCP/IP Wireless using data protocols such as Zigbee or Wi-Fi
Customisable .net PC control application with HLI suitable for connection to any Windows based PSIMS
Email on alarm
Webserver
GSM SMS or data connection
Firmware
Code design for stability in high electromagnetic interference environments
Self testing class B or C compliant code
In field re-flashing using bootloader and encrypted files
Keypad programmable product options
User configurable contact inputs and relay outputs
User friendly user interfaces
Electronics Hardware
Fail safe MCU with up to 3 levels of watchdog
Intelligent LCD keypad control
Systems integration from low (contacts) to high level (DLL)
Variable Power control
Low power mode for monitoring without shock deterrent
Continuity mode for ELV or intrinsically safe applications
Real time clock event logging to SD card or Keypad
Tamper detection
Battery backup with AC fail alert
Industrial Design
3D CAD design for injection moulded plastic enclosures
Custom designed plastic components
Screen printed overlays