Introducing the IP Energizer ®
Pakton's IP Energizers® are the next generation electric fence products. As the name suggests, they connect via TCP/IP to the Internet to allow remote control and monitoring of your electric fence from where ever you are. There are two types available: Agric energizers which are used with the IP Energizer Controller App and Security Energizers which link via Nimbus Gateways to Pakton's Cloud Router™.
Agric IP Energizers®
Pakton is proud to release the first of these products to the Agric market at the Mystery Creek Field days, Hamilton New Zealand in June 2016. For a live demonstration please see www.ipenergizer.com
Security IP Energizers®
For a higher level of security and more features, our Security IP Energizers® connect to our Cloud Router™. The Cloud Router is advanced server side software which allows registered and authenticated users to control their energizers via a Web based interface on a PC, Tablet or smart phone.
A group of Pakton security energizers may be connected to a GSM, LAN or Wi-Fi gateway.

For more information contact us.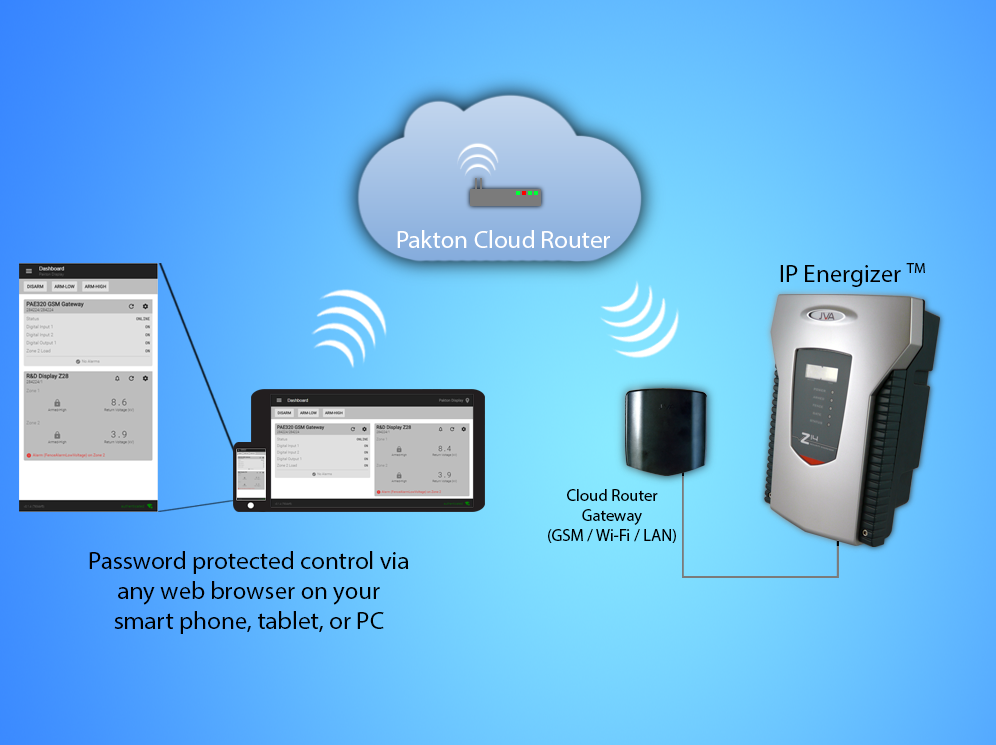 Monitor and control your site using your favourite tablet or phone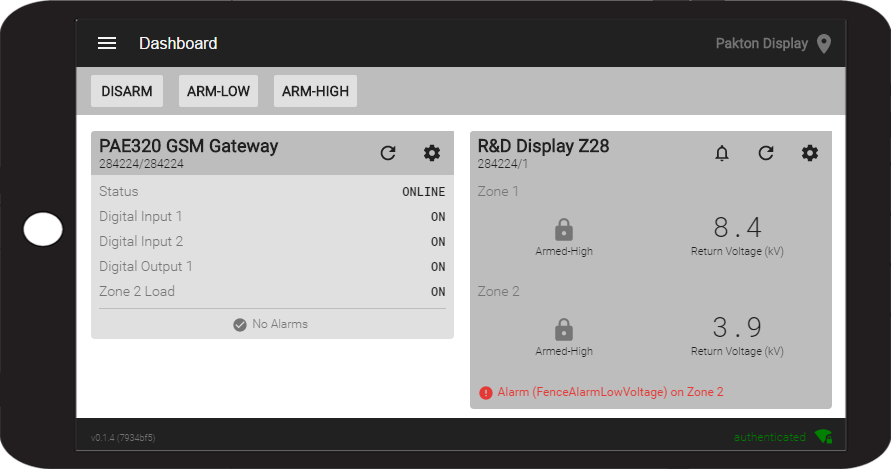 Key Features
| Area | Description |
| --- | --- |
| Setup | Connect your devices to the Cloud Router by using a GSM Nimbus Gateway |
| Registration | Login to the Cloud Router web site, create an account and register your Nimbus Gateway by entering its serial number |
| Mobile Friendly | Use the Cloud Router from your PC, tablet or phone |
| Remote Control | Arm or disarm your site from anywhere in the world |
| Get Alarms | Get alarms sent to your phone via email or SMS as soon as it happens |
| Get Peace of Mind | Check the voltage, alarms or inputs/outputs for your site from anywhere, anytime |
| Investigate Historical Site Events | Every user event, fence voltage or input/output change is captured in a filtered event log |
| Share your Sites | Sites can be shared to other Cloud Router accounts with either admin or user permissions |